We're pleased to forward Elsight Ltd's (ASX: ELS) announcement yesterday that Halo is finally ready for commercial deployment, with 90 units en route to a select group of strategic customers.
This is arguably the most significant announcement in the Company's history. Halo's size enables it to attach to a drone, tablet, camera etc where Elsight's previous version needed to be carried in a backpack. Halo opens the market to exponentially more use cases.
The market didn't respond meaning that either the company is back below the radar or the market is concerned about funding. In the recent 4C, the Company confirmed that they were in advanced discussions with debt funders. With the Halo milestone achieved, there wouldn't be much left in the way.
Please click here for the announcement.
ABOUT ELSIGHT
Elsight has effectively developed a "power SIM card"! By aggregating data across 4 SIMs, Elsight can deliver:
high bandwidth (eg 4K video) over cellular networks,
with the lowest latency (<0.2 sec)
unhackable (the data is scrambled across 4 carriers) and
unparalleled redundancy across the 4 carriers.
Elsight is a provider of ground-breaking hybrid video and data transmission services for large safe-city projects, sensitive facilities management, and surveillance and protective activities. Please click here for a 1 min video.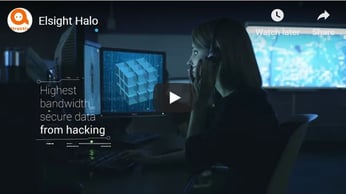 The Company is now poised to launch Halo, a revolutionary new product based on existing proven technology with the potential to significantly generate material revenue with contracts with multinational OEMs and Telco's.
Elsight Ltd (ASX: ELS)
Ticker: ASX: ELS
Market Cap: ~$40 million
Sector: B2B
Investment Highlights
First to market with a superior product offering that delivers faster, more secure data transmission than competitors
ELS in discussion with some of the world's biggest telecommunications companies, leading suppliers, manufacturers of autonomous vehicles and multiple government departments
Leveraged to huge, strong growing market verticals of drones, tablets, security cameras, IOT and autonomous vehicles
Strong pipeline of over 200 leads, supported by enhanced sales capabilities in Australia and Asia, with commercial contracts expected to be signed in Q4 2019
Launch of cloud-based customer solution in 4Q 2019 will add another revenue stream which is recurring in nature
Overview
Elsight is a cutting-edge video communications and live data transmission solutions provider for organisations across defence and security, sensitive facilities management, large-scale Safe-City projects, as well as surveillance and protective activities.
Elsight has two existing direct-to-client offerings, Rider and Multichannel, and targeting such industries as defence, homeland security, industrial security, broadcasting, first responders and healthcare. It is preparing to launch its "company maker" Halo next month for commercialisation, a multi-sim solution with an OEM Channel strategy targeting Original Electronics Manufacturers in many of the world's fastest growing verticals such as unmanned vehicles and automotive, cyber security, network technology, telecommunications and aviation. Halo's key focus will be on larger contracts with multinational companies.
These unique end-market opportunities combined with the world's leading secure data transmission technology provides the foundation for significant value creation potential over the short, medium and long term.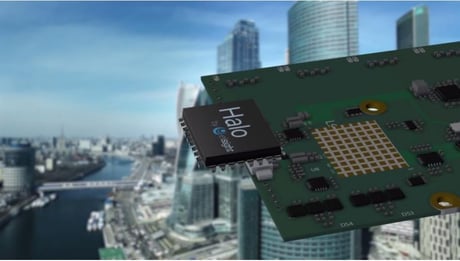 Please reply email to be kept posted with progress or click on button below to subscribe (on to receive further updates.
Kind regards,
Justin
Justin Rosenberg
Corporate Adviser to Elsight Ltd

Corporate Finance - Executive Director
Gleneagle Securities (Aust) Pty Limited
Level 27, 25 Bligh Street, Sydney NSW 2000
Ph: +612 8277 6683
Email: justin.rosenberg@gleneagle.com.au
LinkedIn: https://www.linkedin.com/in/justin-rosenberg/
You're welcome to book a call or meeting with me here
Disclaimer and Disclosure
This research is prepared for general information only, and as such, the specific needs, investment objectives or financial situation of any particular reader have not been taken into consideration. Individuals should therefore discuss, with their adviser the merits of the analysis for their own specific circumstances and realize that not all investments will be appropriate for all readers.
Gleneagle makes no representation or warranty, express or implied, is made as to the accuracy, completeness or fairness of the information, opinions projections and estimates contained in this document. Other than as attributed, the opinions (if any) expressed in this document are given as part of Gleneagle's normal research activities and may change. Gleneagle has no obligation to notify opinion changes or if it becomes aware of any inaccuracy in or omission from this document. All opinions and projections expressed in this document are given as of the date of this document and are subject to change without notice.
This document is not an offer document and does not constitute an invitation to subscribe for or buy any securities or an offer for subscription or purchase of any securities or a solicitation to engage in or refrain from engaging in any transaction. Neither this document nor anything contained in this document forms the basis of any contract or commitment for the purchase or transfer of securities. This document must not be relied on to make an investment decision. To the extent permitted by law Gleneagle and its employees, agents and authorised representatives exclude all liability for any loss or damage (including indirect, special or consequential loss or damage) arising from the use of, or reliance on, any information, view or recommendation (the information) whether or not caused by any negligent act or omission. If the law prohibits the exclusion of such liability, Gleneagle hereby limits its liability, to the extent permitted by law, to the re-supply of the information or the cost of the said re-supply.
There are risks involved in purchasing securities. In particular, the prices of securities can and do fluctuate, and any individual security may experience upward or downward movements, and may even become valueless.
Gleneagle and/or its associates may:
- hold securities in the entity discussed ;
- buy and sell securities in the entity that is discussed before or after publication;
- receive commission from clients for dealing in securities in the entity that is discussed and its representatives and analysts may directly share in that commission;
- receive fees, commissions and payments including underwriting and placement fees from the entity that is discussed; and
- receive corporate advisory fees, payments, and commission from the entity that is discussed